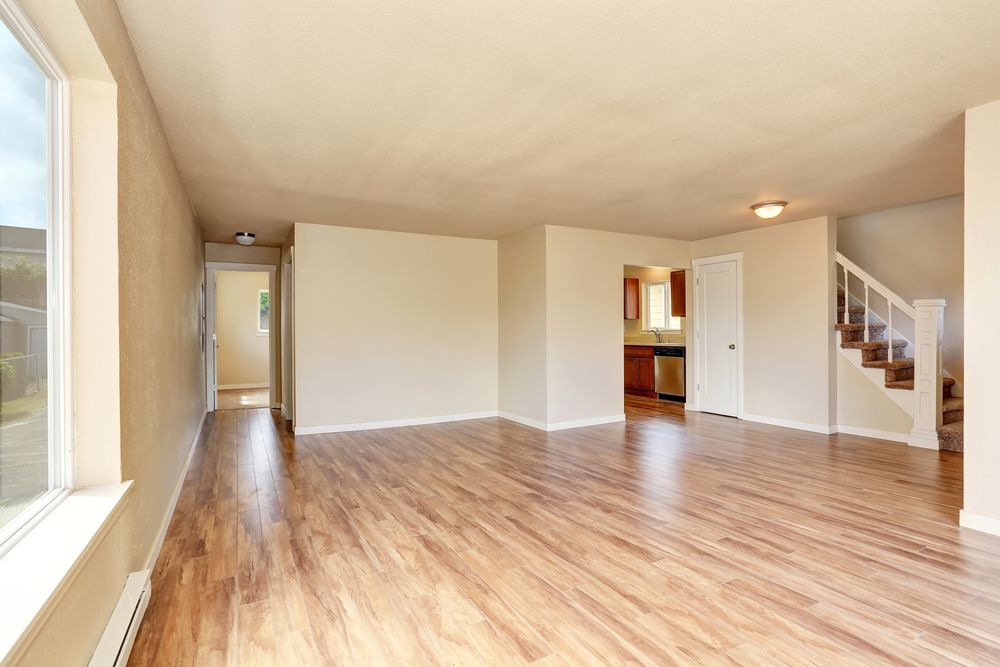 AFFORDABLE

PRICES

FRIENDLY

& TIDY

WORK

GUARANTEED

LATEST

TECHNOLOGY
LOOKING TO REVITALISE THE WOODEN FLOOR OF YOUR SURREY HOME OR OFFICE?
What's the right service for you and your floor? The following list of the services we offer in the Surrey area GU1 should help you decide. Don't forget though that you can book a free onsite consultation with one of our experts, who can assess your floor and discuss your needs.​
FLOOR SANDING
Floor sanding is at the heart of the services we provide. Suitable for both domestic and commercial premises, it involves removing the surface layer of the wooden floor. This eliminates the finish that's past its best, and reveals the fresh new-looking wood that lies underneath. Sanding prepares the floor for the application of a new finish, such as varnish or wax. Unlike some firms, we offer virtually dust-free floor sanding.​
WOOD FLOOR RESTORATION
If your floor has truly seen better days then a full restoration can shave away the years and have it looking its best once more. Restoration is usually recommended for wooden floors that have been neglected over a period of many years and show considerable signs of wear and damage. Our experts will make any repairs as needed, sand the floor down and apply a suitable finish.​
WOOD FLOOR REPAIR
Sometimes a floor just needs a little care and attention in specific areas. Our Surrey-based team of experts can make any repairs needed, and also provide you with any advice you may require. If certain floorboards are beyond repair, they can also replace them with sustainably sourced wood of the same type and age. Repairs can also be made to the deeper sub-floor levels.​
WOOD FLOOR STAINING
We can stain floors across Surrey RH18, using a range of eco-friendly staining products. Staining is perfect for floors that have lost their vibrancy, or for when you simply want to change the appearance of the wood. Staining can really enhance the overall look of your floor, while at the same time preserving their natural aesthetics and grain. The Surrey Floor Sanding company offers a wide range of colours and shades, from the traditional to the modern.
WOOD FLOOR FINISHING
At each and every stage of your floor restoration, we are meticulous in our attention to detail, but nowhere is this more important than the finishing stage. A good finish not only looks good, it protects your floor for years to come. We offer a wide range of finishes, and can advise you on those that would work best on your floor, from stains and varnishes to waxing and oiling.
WOOD FLOOR FINISHING
Parquet floors need special care and attention, and sanding them is a job best left to the professionals. We've worked on parquet floors across Surrey, and understand their characteristics and needs intuitively. In addition to sanding, we can repair and replace individual blocks, taking great care to remove the bitumen, which has commonly been used as an adhesive for parquet floors in the past.​
PARQUET FLOOR RESTORATION
We understand the strength of feeling that people have for their parquet floors, and the often considerable investment that has gone into them. No matter what state your floor is in, we can work with it to return it to its best. This may involve the repair and/or replacement of individual tiles, followed by sanding to remove the surface layers, and finishing to protect the floor and leave it looking vibrant.
PARQUET FLOOR RESTORATION
Sometimes a complete restoration is not needed, and a little surgical TLC can bring the floor back to its prime. We can carry out repairs wherever they are needed, and replace individual parquet blocks with new matching ones. This is a great low-cost option for Surrey homeowners with specific needs regarding their parquet floor.​
WOOD FLOOR POLISHING
It's amazing what difference a professional polish can make to the appearance of a floor. If your wooden floor is relatively new or has been restored in the past couple of years then a good polish may be all it needs to liven it up! Our experienced team will begin by cleaning and buffing the floor and then polish it to bring back its shine. We recommend that Surrey home owners have their wooden floors polished once every two years, though high-traffic areas may need it more often.
GAP FILLING: RESIN, SLIVERS & SILICON
If you've got gaps in your floor that have been niggling away at you (and your wallet – gaps in the floorboards are a great way to lose heat from your home!), let the Surrey Floor Sanding company take care of them. As well as improving the cosmetic appearance of your floor, filling these gaps can also improve the thermal efficiency of your room. We use wood slivers to plug the gaps, in combination with resin and silicon. It's worth noting that filling in the gaps between floorboards can also eliminate those irritating squeaks and creaks.​
WOOD FLOOR MAINTENANCE​​
We don't just overhaul and reinvent wooden floors, we provide vital maintenance to our customers as well. To keep your floor looking its best we recommend a buff and polish every two years or so (to the floor, that is!), while for offices and other busy commercial areas annual maintenance may be required.​
COMMERCIAL FLOOR SANDING
We've worked with businesses of all types across Surrey, and we understand how important a good looking floor can be to your brand image. We can carry out any work needed at a time that doesn't interfere with your normal operations, and will do everything we can to minimise disruption.
SCHOOL FLOOR SANDING
By the time the summer holidays arrive, many teachers are more than ready for a long break! It's not just the staff who feel the strain of term-time though – your school wooden floors have to endure long months of constant use and the constant patter of growing feet. Sanding and finishing can revive them in time for September, when it all starts all over again.
FINISHES AND SEALS
We can offer you a wide range of finishes and seals suitable for your floor and your own specific tastes. We're also experts on what finishes to use in particular instances, so your floor is in good hands.
​Whatever your needs, call the Surrey Floor Sealing company today to arrange a free onsite consultation and quote.